Market Day #10
Come shop the rainbow of local produce & products this Saturday at the Carp Farmers' Market!
Come shop the rainbow this Saturday at the Carp Farmers' Market! There's so much amazing local produce in season right now along with some equally incredible local products & crafts to choose from. Please note that our market continues to operate in a reduced capacity according to our COVID-19 protocols and Ottawa Public Health guidelines. Make sure to read over our COVID-19 protocols before attending – see below for more information. Read on for a list of the local vendors joining us this Saturday.
VENDORS
Vendors who will be at Market this Saturday from 8:30am to 1:00pm:
Please note that the order that these vendors are in corresponds with their booth location for you to plan your shopping trip accordingly.
This list is subject to change without notice.
Farm Experience School Crafts
Berch Design & Display
Just Perogies
Tipaya's
Cheff Fields Farm
Kathy Cassanto's Home Baking
Capener Creations
If This Dip Could Talk
Blue Bee Food Wraps
Rosie's Fudge
Heather's Hearth
Jambel Cuisine
Pizza Farm
Lacelle's Apiary
Corad Farms
Terramor Farm
The Girl With The Most Cake
Nonna's Dressings & Marinades
Diane Sullivan Arabesque Pottery
Mississippi Maple
Dobson's Grass-Fed Beef
Basswood Garden
Bearbrook Game Meats Inc.
Stella Luna Gelato
Forest Floor Mushrooms
Agnes The Pie Lady
Pine Ridge Studio
Sharpley's Popcorn
Boyview Farms
Hedgeview Farm Organics
Farm Gate Cider
Undressed Body Care
Needham's Market Garden
Artizen Kombucha
Meg's Pottering
Leah the Baker
Wrist Joy
Russell's Honey
Heart & Home Soaps
Pastel de Feira
Tiraislin Fold
Rocket Scone
Morningside Farm Lamb
All About The Soup
Swallowtail Farm
Bousfield Nursery
McGregor's Produce
Raon Kitchen
KIN Vineyards
Hall's Apple Market
Bergeron Gardens
Servipro Farm
Acorn Creek Farm
COVID-19 Market Protocols
Our Market continues to operate under COVID-19 restrictions. We are doing everything possible to ensure the safest shopping experience for our customers. Masks are mandatory in the shopping area and while waiting in line. We have ropes to ensure proper physical distancing that surround our shopping area, and surfaces are frequently sanitized. We also are limiting the number of customers inside the shopping area at the same time and only have one entrance/exit. At this time, we ask that you leave your pets at home; service animals are welcome. There is also no eating or drinking inside the shopping area – all food is take home only, there is no food court. We know things look different from our traditional social market but we are confident in our ability to ensure a safe shopping environment for both our customers and vendors during this global pandemic. If you'd like to read more about all of our COVID-19 Market Protocols currently in place, please visit our website:
https://carpfarmersmarket.ca/covid-19-market-protocol/
Seasonal Recipes
Cook delicious meals with seasonal ingredients.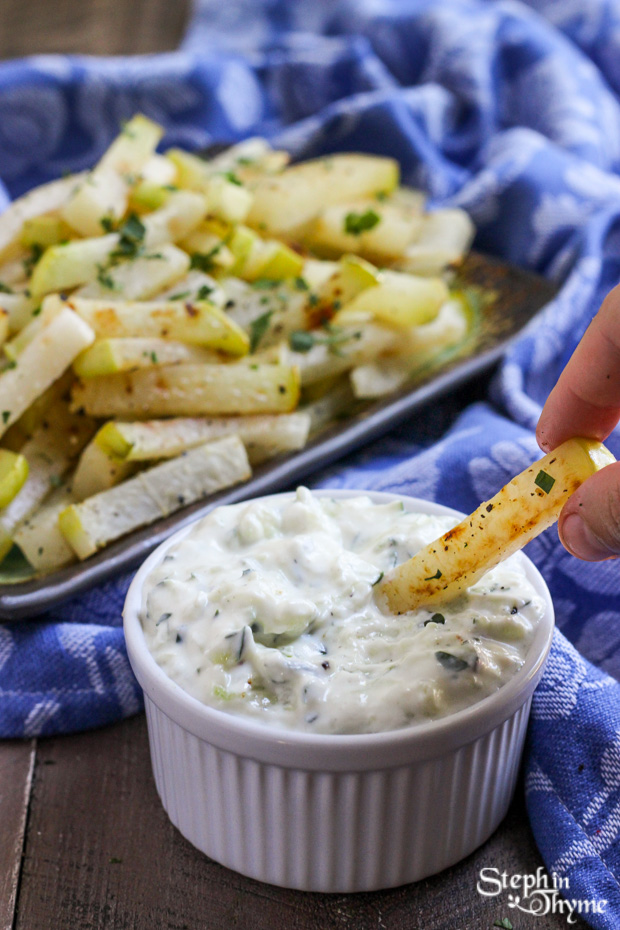 Baked Kohlrabi Fries with Greek Tzatziki
Upcoming Market Days
Saturday July 17: 8:30am to 1:00pm
Saturday July 24: 8:30am to 1:00pm
Saturday July 31: 8:30am to 1:00pm