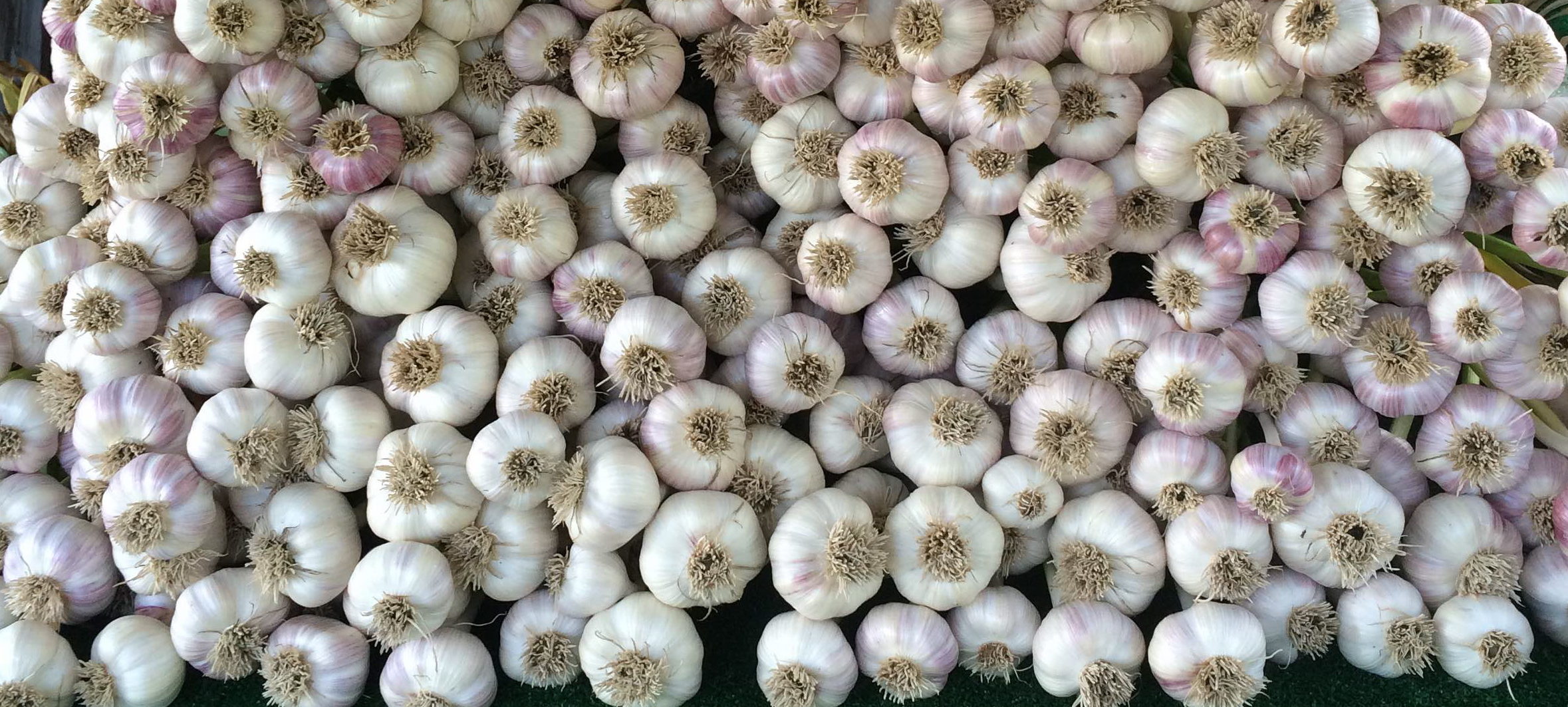 Garlic Festival – Opening Day
Garlic, garlic and more garlic! You will never find more garlic in one place than as you will at the Carp Farmers' Market.
Join us for the 19th Annual Garlic Festival opening Day.
You will find our vendors selling over 30 different varieties of fresh garlic, garlic products such as garlic spreads, garlic dressings, garlic baskets, pottery garlic holders and much much more!
We will have garlic events, demonstrations and information sessions covering anything imaginable to do with garlic by some of our amazing vendors and celebrity chefs.
Festival Vendors | Festival Layout
Also check out the event schedule on Sunday.
Hourly Schedule
8:00

-

Welcome

Welcome to our 19th Garlic Festival
9:30

-

12:30

The Best Garlic Contest

Garlic growers vie for the red ribbon in 5 categories. View the entries at the Events Tent
10:00

-

Best Garlic Contest Awards

Awards for Best: 1) Single Bulb Hardneck Garlic, 2) Single Bulb Softneck Garlic, 3) String Braid, 4) Pigtail or French Braid, 5) Decorated Braid
10:00

-

Garlic Tasting

Event begins – and will continue through to Sunday afternoon. Taste and compare different varieties of garlic from our garlic vendors.
10:00

-

Garlic Shots

Get your fix of raw garlic for the day - while supplies last.
10:30

-

Celebrity Chef Demo

Tristan Hertzog of From the Ground Up Culinary, a private chef service showcasing produce from the Ottawa Valley. Tristan is very passionate about agritourism/culinary tourism and loves to showcase the uniqueness of the farmers of the Ottawa Valley and the products they work so hard to grow.
11:30

-

Garlic Braiding Demo

Braiding Garlic with Catherine Cheff from Cheff Fields Farm (Alpacas, Garlic & Honey). Catherine has been growing and braiding award winning garlic for over 20 years. Catherine will share her braiding techniques with both hardneck and softneck garlic to help you store your garlic longer over the winter.
12:00

-

Celebrity Chef Demo

Chris Jestin from The Cheshire Cat Pub. 'The Cat' is known as much for its modern take on traditional British cuisine as keeping the tradition of the British pub alive. One of Carp's treasures.
1:00

-

Jim Craig Memorial Award

Awarded for the Best Booth. Jim was our Market Manager for many years, and many credit him for shaping the Carp Farmers' Market into the great market it is today. Every year all of the Garlic Festival booths are judged for such things as overall appearance, creative use of garlic in displays, incorporating elements of education, and more. As you visit from booth to booth today, you can imagine the difficulty the judges have. The winner will be presented with a Golden Garlic Pendant, designed and made by CFM vendors Eric and Christine Brackenbury, and will have their names engraved on the 'Best Booth' plaque.
1:15

-

Growing Great Garlic

Join award-winning Garlic Grower John Moore. All about growing great garlic. Questions welcome.
2:00

-

Health Benefits of Garlic

Join Devorah Belinsky from Yellow Moon Farm, Eganville Ontario, BA, BSc, MSc. Join Devorah for a participatory workshop on garlic and nutrition, for you and your animals.
3:00

-

Festival closes for the day

See you on Sunday.