About the Carp Farmers' Market
A local Farmers' Market was a concept and a dream in the mind of Hildegarde Anderson, an active resident of Carp. Ms. Anderson had fond memories of the success of farmers' markets in her native province of Saskatchewan. She decided that a prairie-style farmers' market would provide the agricultural community and the residents of Carp many kinds of social and economic benefits.
With a determined spirit, she pressed ahead to transform her dream into reality. Together with her friend Kathy Fischer, Farmers' Markets Ontario's marketing specialist Bob Chorney, and volumes of information from the Ontario Ministry of Food and Agriculture, she proceeded to develop a written plan and conduct a series of information meetings together with a publicity campaign to convince other members of the community of the need for and potential benefits of a farmers' market.
In January 1990, the Carp Farmers' Market became a reality for many residents of Carp and the surrounding communities, and the first market day was June, 23rd, 1990.
Each day brought new ideas and new supporters for the market concept. A nine-member steering committee was formed. Janice Browning's slogan "Fresher By A Country Smile" was adopted together with the harvest basket logo designed by Brian Fallack. School children submitted stories with the theme of the Carp Farmers' Market. Signs were printed and advertisements were placed with the media.
The Carp Agricultural Society and the whole community soon embraced the concept of a producer-based country market. All products sold at the market must be grown, raised, produced or manufactured by the vendors themselves. Buying and selling is not permitted. This was something Ms. Anderson believed in very strongly and it soon became the standard for the Market.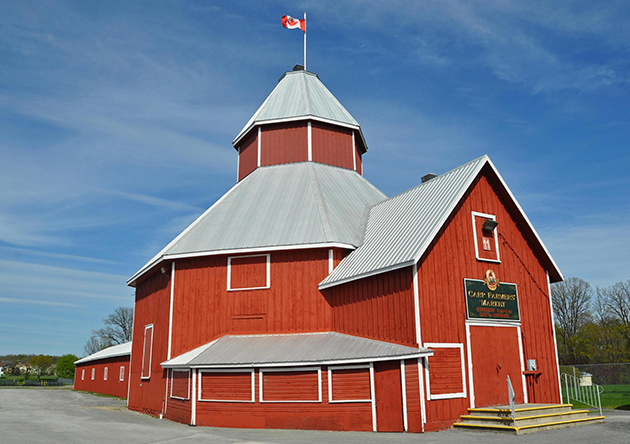 Six months from dream to reality! On June 23, 1990 the Carp Farmers' Market opened to an enthusiastic crowd of 1,000 customers at the Carp Fairgrounds. Within four short weeks, the promise of exceptional produce and craftsmanship drew a crowd of 3,500 people.
The Market has been a tremendous success. One person had a dream and was able to convince the entire community of its merits. Sadly, Hildegarde Anderson was killed in a car accident in 1993. But she will be remembered as the inspiration and motivator behind all of the GOOD that has come from the creation of the Carp Farmers' Market.